Equipment -> Telephone Systems
Here you need to enter information about your telephone system environment.
This page contains the same options as the identically titled page in the installation wizard.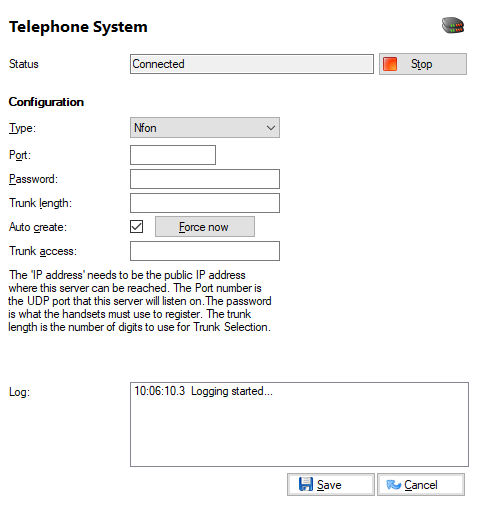 Service status

This tells you whether the telephony service is online or offline.
Service start/stop button

You can choose to stop or start the CTI telephony service from this page. Typically, there would be no need to restart the telephony service during normal operation. However, if you are experiencing telephony related problems (including the inability to make or monitor calls) then you may want to try stopping and then starting the telephony service. This has no impact on actual telephone calls in progress, only the software's ability to track these calls.
Type selector

Select your PBX type in this dropdown box.
IP address

Port
Enter your PBX Port into this text box.
Password
Enter your PBX Password into this box.
Trunk Length
Enter your PBX trunk length into this text box.
Auto create option / Force now button

Tick Auto create to dynamically download all extensions from the PBX. If you have made changes to extensions, you can synchronize them with 'Force Now' without restarting the telephony service.
Trunk access
Enter the trunk access code used by your telephone system here (normally either 9 or 0).
Log

This panel will update as actions occur.